April 4, 2014 - Edmonton, Alberta - FOR RELEASE APRIL 4th 2014, 14:00 PST
Super Motherload Full Release Now Available on Steam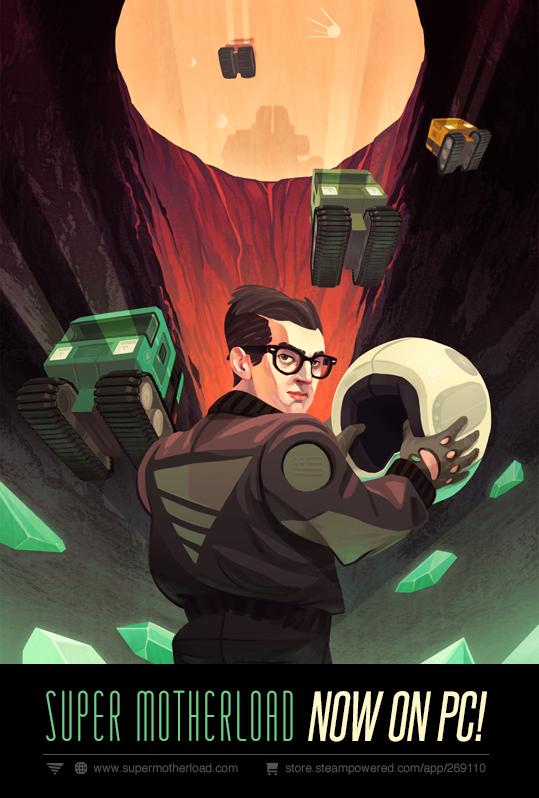 XGen Studios is excited to announce the full release of Super Motherload on Steam, available starting today. The game has received a number of enhancements, including the addition of 50 new Puzzles, Steam Achievements and trading cards, custom key-binding, stability and bug fixes, and support for a wider variety of system configurations. The full release of Super Motherload follows release of the Alpha version, through Early Access, in February.
"Early Access has allowed us to look to the Steam community for feedback on what issues and feature-requests to address first by gaining insight into what is most important to our players", said Scott Carmichael.
Starting today, the full release of Super Motherload is available on Steam at a discounted price of $11.99 for one week, a discount of 20% off it's regular price of $14.99. This latest PC release adds to the growing list of supported platforms, which include PS4™ and PS3™.
Just over 1% of Super Motherload players have successfully navigated the depths of Mars in Hardcore mode to earn the game's Cheat Death achievement and secure their place in alternate timeline cold war space-race history. Hardcore mode closely mimics the brutal difficulty of the original Motherload, released in 2005.
Super Motherload's addictive, zen-like gameplay has attracted much attention from industry journalists, appearing as the subject of a Penny Arcade comic and garnering a 8/10 from Destructoid. Game Revolution calls it "an awesome blend of obsessive compulsive profiteering and addictive, satisfying gameplay", giving the game a 4.5 out of 5.
For additional information about Super Motherload, please visit www.SuperMotherload.com
Super Motherload on Steam
http://store.steampowered.com/app/269110
Super Motherload on PlayStation®Network
https://store.sonyentertainmentnetwork.com/#!/games/super-motherload/cid=UP2095-CUSA00045_00-SMLPS40000000000
Gameplay Trailer
http://www.youtube.com/watch?v=nCa-gaN090I
Live Action Trailer
http://www.youtube.com/watch?v=qLGcP4QbSV8

Original Soundtrack
http://www.youtube.com/watch?v=SxnkVyoqwSA
Developer Blog
http://supermotherload.tumblr.com/
Penny Arcade Comic - "Subsurface"
http://www.penny-arcade.com/comic/2013/11/20
About Super Motherload
Set on Mars in an alternate Cold-War era, Super Motherload is a 1 to 4-player couch co-op digging adventure with branching storyline choices, a fully voiced cast of Soviet and American characters, and a procedurally-generated world that changes each time you play.
Super Motherload is a Day-1 title for the PS4™ system and the sequel to XGen Studios' original hit Motherload.
About XGen Studios
XGen Studios is an award-winning videogame developer, publisher, and technology provider focused on creating enduring experiences with mass-market appeal. Founded in 2003, XGen Studios has brought to market 10 commercial games for platforms including the PS4™, PS3™, Mac, PC, Android, iOS and the Web, as well as the #1-selling hit Defend Your Castle for Nintendo's WiiWare™ Service. XGen Studios has a thriving online community with over 3 million monthly players, and is independently owned and operated.
©2014 XGen Studios Inc. All Rights Reserved. Super Motherload, XGen Studios and the XGen Studios and Super Motherload logos are trademarks of XGen Studios Inc.
Steam trademarks and copyrights are properties of Valve Corporation.
Nintendo trademarks and copyrights are properties of Nintendo.
"PlayStation", "PS4", "PS3" and "PlayStation Network" are trademarks or registered trademarks of Sony Computer Entertainment Inc.